Boat tour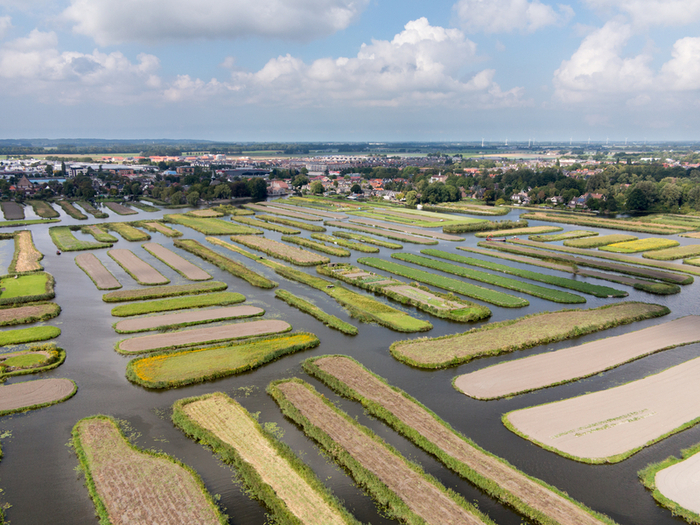 By boat
Museum BroekerVeiling is surrounded by fertile farming fields. The area is called "The Realm of a Thousand Islands". When sailing through the area in a boat you will instantly see why this name was appropriate. Small fertile islands. There used to be over 15.000 of them. Each one dug by hand. For centuries strong men sowed and harvested vegetables from the islands in all kinds of weather. Sail through it during the boat trip included in the museum visit, or rent a small electrical boat and explore this extraordinary area yourself.

BroekerVeiling boat trip
A boat trip past the fertile farming islands near Museum BroekerVeiling is an absolute must-see in the North of Holland. During the boat trip you will see what is left of the Realm of a Thousand Islands. The captain will tell you more about the history of this extraordinary area.

Open and closed boat
Good to know: if the weather is bad you will sail in a closed boat. If the weather is good you will experience the boat trip in an open boat.

Times and prices boat trip
The boat trip is included in the entrance fee for the museum. When entering the museum you will be given a map of the museum terrain on which the time for your boat trip (and demonstration auction) is written.

Rent an electrical pram, fieldboat, canoe or SUP
It is possible to
rent an electrical pram or motorized fieldboat
so you can explore the surrounding waters by yourself (pram) or make a longer trip to nearby cities like Alkmaar (fieldboat). Want to take a more hands-on approach? Take a paddle and rent a canoe.
Reservations and prices boat rental
We have a limited number of prams, fieldboats and canoe's available. Tip: book in advance!
| | | | |
| --- | --- | --- | --- |
| | Price | Number of persons | Deposit |
| | | | |
| Electrical Barge | €27,50 (per hour) | 4 to 6 | €250,- |
| | | | |
| Fieldboat | €27,50 (per hour, min. 4 hrs) | 8 to10 | €250,- |
| | | | |
| Canoe | €7,50 (per hour) | 2 to 3 | €50,- |
| | | | |

Tip: use the izi.travel app
Broek op Langedijk offers a beautiful area you can explore by water. The buildings and sites bordering the waters are steeped in history. This can be difficult to spot sometimes. If you are interested in the historical significance of the places you pass by, please use the izi.travel app. During your boat trip you will be able to see photographs from a time where the land was used for agriculture. You will also receive background information on your surroundings. A great way to get the most out of exploring the area by yourself by boat.

More fun on the water
Would you like to take a private sailing trip in our boat? Rent our open or covered boat with a captain. There is place onboard for a maximum of 60 people. Prices: €225 for an hour; €55,- for every half hour after that.

Sailing on the Alkmaar Lake
Sailing with the Dam boat (an old tjalk) is a fantastic experience. Is there enough wind? Book a all-inclusive day for maximum 10 persons. Price: €1000,-.